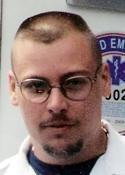 Cliff Allan "Fire Dog" Shafer, 28, of Liverpool, entered into eternal rest on Sunday, Sept. 7, 2008, in the Hershey Medical Center, from multiple injuries sustained on his father's farm while working on his truck.

He was born on April 23, 1980, in Danville, a son of Lamar E. "Hank", Jr. and Connie L. (Feehrer) Shafer.

Cliff graduated in 1998 from East Juniata High School. Following his graduation from high school, Cliff became an EMT. In December 2005, he graduated from Harrisburg Area Community College as a paramedic. He then continued his educational studies at HAAC in Emergency Health Services and served as a paramedic for Community Life Team EMS, Harrisburg and at Sunbury Community Hospital, Americus Hose Company Ambulance League, Sunbury and Area Services in Shamokin, the Elysburg Fire Department and the West Shore EMS .

He volunteered for the Liverpool Fire Company, the Port Trevorton Fire Company, the Dauntless Hook and Ladder Fire Company EMS, the Shamokin Dam Fire Company, the Hummels Wharf Fire Company, the Reliance Hose Company, Middleburg and the Port Royal EMS. The highlight of Cliff's life was his beloved daughter Kaitlynn, affectionately known as "PeeWee". He enjoyed helping his father on the family farm, and spending time with his sister, Jennifer, and his nephew and cousins, tinkering with his truck and riding his motorcycle. Cliff was an avid Penn State football fan .

In addition to his parents, Cliff is survived by his daughter, Kaitlynn Elizabeth Shafer and Cliff's finacee, Gwen Yetter, both at home in Liverpool; one sister, Jennifer A. Shafer of Port Trevorton; one nephew, Nathan Cataldi of Port Trevorton; and four cousins, Emily, Isabel, Christian and Jessica; two uncles and five aunts; and his mother-in-law, Jennie Yetter; and his brother-in-law, Darius Yetter; and a large extended family.

He was preceded by his paternal grandparents, Lamar E. "Bill" and Isabel J. (Seward) Shafer, Sr., and his maternal grandparents, Charles U. and Mary K. (Long) Feehrer, his aunt, Nancy E. Feehrer, and his cousin, Jennifer Blair Walter.

The family will receive friends for the viewing from 6 to 9 p.m. Thursday and from 9 to 11 a.m. Friday, followed by a funeral service at 11, at the Hope United Methodist Church, 1623 Main St., Port Trevorton, with Pastor Ryan K. Gephart, officiating.

Burial will be made in the Susquehanna Mennonite Cemetery, McNess Road, Port Trevorton.
In lieu of flowers, the family requests memorial gifts to be directed in loving memory of Cliff for his daughter, Kaitlynn, to a trust fund, c/o Swineford National Bank, 8413 Route 104, Mt. Pleasant Mills, PA. 17853.
The George P. Garman Funeral Homes, Inc., 9366 Route 35, Mt. Pleasant Mills, has been entrusted with the funeral arrangements.